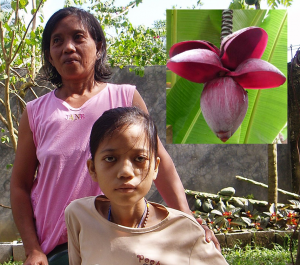 "Very truly I tell you, unless a kernel of wheat falls to the ground and dies, it remains only a single seed. But if it dies, it produces many seeds." –  John 12:24
It's been many years now since Edwina, a 17-year-old from Santa Fe, climbed a banana tree. She was trying to reach the delicious flower at the top when she slipped, and her world changed in an instant. She found herself on the ground and unable to get up, or even to feel or move her legs! Edwina had broken her back in the fall and her entire lower body was paralyzed. Her family brought her home but she failed to regain the use of her legs. She could not even control her bowels or bladder. Her family had no money for doctors so her mother cared for her as best she could. After a year had gone by, her situation became grave. Edwina had developed deep bed sores. She did not become uncomfortable as anyone else would, as the sores developed because she was unable to feel them. But the sores had become infected, and now Edwina was gravely ill. When her mother brought her to our medical team in Santa Fe, she was near death. Tears streamed down our faces as we cleansed her wounds and gave her antibiotics. Then we shared the Gospel with Edwina and her mother and prayed for both her healing and her salvation. And Jesus changed the hearts of Edwina and her mother that day. Edwina then left this earth to be with the Savior for all eternity.
Edwina was a grain of wheat. That was our very first mission trip to the island of Leyte, Philippines years ago. Since then we have returned many times, with many volunteers joining us. Hundreds and perhaps thousands have experienced the healing ministry of Jesus Christ through our ministry there. It all started with Edwina, who I am sure is looking down from the banana tree, eating its delicious flower, and cheering us on.