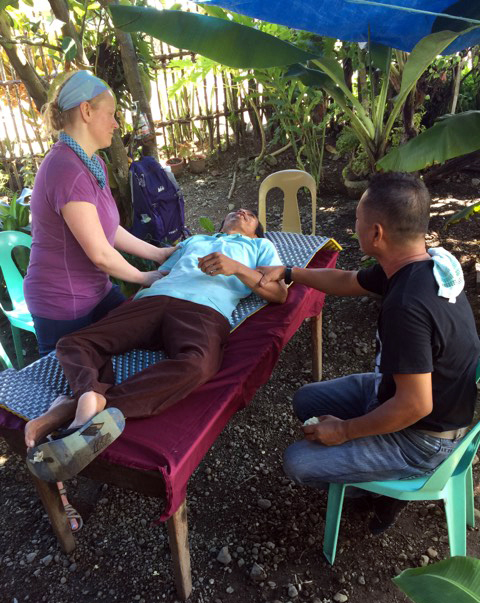 "Her heart was breaking for this young man who will never enjoy a normal life."
I always love it when we travel to a new location to hold a medical clinic. It's great to go back to the same places and see familiar faces, but new locations bring out my sense of adventure. Today we traveled about an hour out to a rural location with Carabao grazing behind us and frogs hopping through our clinic.
As we prepared to start the morning, a young man with a deformed right foot and a tremor sat waiting patiently. Pastor Ben shared the Gospel message with this impoverished community using a magic trick that he promised to reveal to me later. Then we started our clinic, going first to this man who had great difficulty walking. He gave me his story. At eight months of age he developed polio and his right leg has been deformed ever since. Five years ago he became infected with Schistosomiasis, a parasitic flatworm that is passed from freshwater snails to farmers and fishermen and people who do not have safe drinking water. The villagers in this area drink from shallow uncovered wells that are certainly contaminated. And as expected, I saw multiple cases of diarrhea and gastric problems here that I did not encounter in town yesterday. My patient was diagnosed with the flatworm after a seizure. This parasite affects many organ systems, including the central nervous system. He was hospitalized and treated but since that time has had a severe tremor and spastic, painful limbs. I gave him a dose of medication for the tremor and his pain, then sent him to Jennifer, our massage therapist, who began to work on his tortured body. I then turned to my next patient, a one year old girl with a cough and clubbed feet. It was clear that she would never walk normally on them, so I treated her cough and then brought in the local Pastor who would be our contact while we work on getting her in to see an orthopedist. Her prognosis would be good. I saw a few more patients before checking in on our young man with the tremor. He was now resting comfortably on the massage table and the tremor was almost imperceptible. He would go home with a three month's supply of medications.
 When Jesus had finished giving instructions to His twelve disciples, He departed from there to teach and preach in their cities. Now when John, while imprisoned, heard of the works of Christ, he sent word by his disciples and said to Him, "Are You the Expected One, or shall we look for someone else?" 
Jesus answered and said to them, "Go and report to John what you hear and see:  the blind receive sight and the lame walk, the lepers are cleansed and the deaf hear, the dead are raised up, and the poor have the Gospel preached to them." – Matthew 11:5
 Two patients who were lame. One will walk normally someday but the other will most likely only have his suffering eased for a time. I thought of Jesus and how He healed the lame and cured the sick with a simple command. He did so as a sign, to prove that He was the Son of God. But he also had great compassion for them. I start each day of our mission praying that our hearts will be broken by the things that break God's heart. As we climbed back into the multicab transport, one of our nurses was crying. Her heart was breaking for this young man who will never enjoy a normal life. Her heart was broken. The tears of our Savior fell as she wept.  We comforted her. And God smiled.